College Basketball Betting Guides
Live Betting College Basketball: 5 Tips To Grow Your Bankroll
March Madness bracketology has been thoroughly dissected. There's the 12-5 upset to be conscious of, the No. 1 seed that "never" loses in the first round, and the trend of First Four teams winning in the Round of 64. When it comes to live betting, though, college basketball bettors are kind of in the dark.
If you're looking to find an edge with live betting the NCAA Tournament, then check out these five strategies that might just help you win some extra money from your couch this March.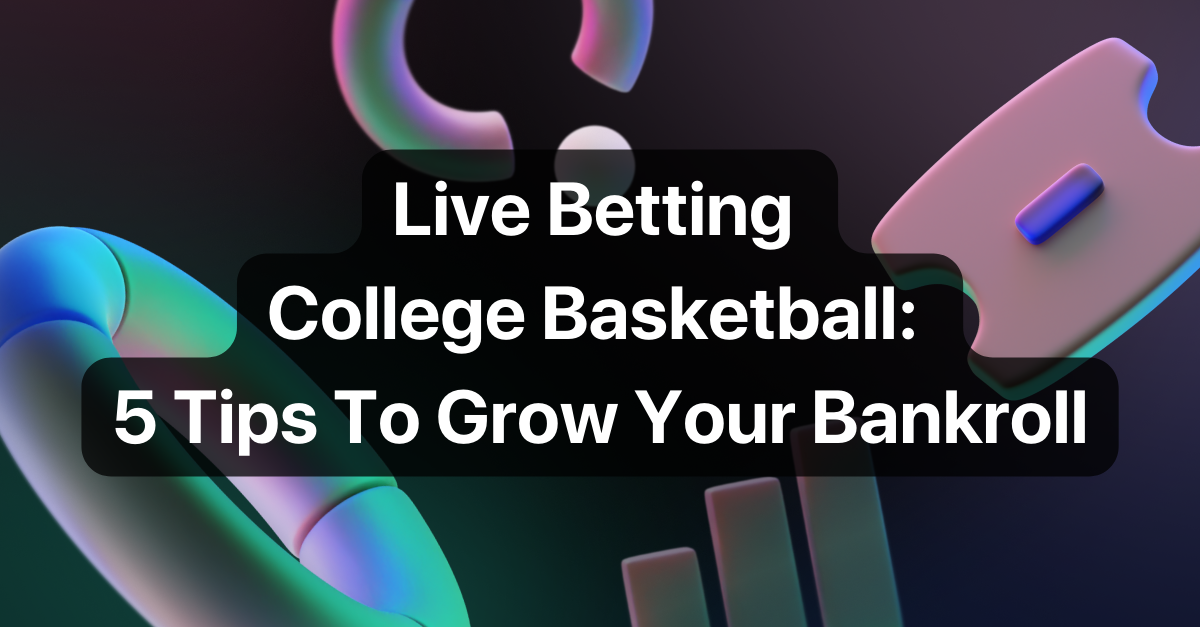 Watch For Favorites To Go Down Early
One good opportunity you can take advantage of is looking for favorites that are trailing early. Sometimes, the odds on a moneyline or the size of a spread might be too hot pre-game. However, if that favorite begins to trail early on, you can get a healthy discount on the same line.
A great example of this was when No. 1 Gonzaga trailed No. 16 Georgia State 29-25 late in the first half of their Round of 64 matchup in the 2022 NCAA Tournament. Before tipoff, the Zags were a -10000 favorite but, at one point in the game, the in-game odds dipped as low as -2000 when the Zags were trailing by four. Bettors that waited to see how the first half played out, secured odds that were five times better than the closing line. And, of course, Gonzaga came back to win.
Understand Derivatives and Team Props
During the first rounds of March Madness when the tournament has captured the nation's attention, it's going to be tough to find an edge on traditional moneylines, spreads, and totals—even in the context of live betting.
But, turn your attention to first-half totals, second-half spreads, and individual team totals. These types of wagers can be analyzed by historic performances, load management trends, and observable momentum within the live game.
For example, if the clear favorite comes out of the gate hot and is riding a 16 point lead at the end of the first half, you might want to research whether the favorite has a history of sitting their starters when leading by wide margins at halftime. If they do, then the opposing team might be more likely to tighten the spread margin in the second half. The sportsbooks might not be pricing this in and you might just have yourself a nice opportunity to secure an well-valued second-half spread bet.
Additionally, because derivatives are less popular and command less public action, they are less prone to sporadic adjustments. This means that you'll actually have time to research the line and make an informed wager.
Hedge Your Bets When Live Betting College Basketball
There are two ways that hedging college basketball bets can fit into your broader March Madness betting strategy. You can hedge to lock in opportunities or hedge to limit losses.
With the first method (hedging to lock in opportunity), you're really banking on the volatile nature of college basketball. College basketball is notorious for teams going up big early, completely collapsing, all before re-igniting and ultimately winning the game. With hedging, you can take advantage of this volatility.
Let's say you've bet on the favored team to cover the spread (-7) before the game tips off. Right off the bat, the favorite takes a 10-0 lead. The underdog might now be at +14 on the board. At this point, you can pick off the underdog for +14. If the underdog begins to make a comeback and the spread returns to +7, you have a window to middle bet the game, with limited downside regardless of who ends up winning the game.
With the second method (hedging to limit losses), you can use live betting to bet against your original position, and limit the downside. Let's say you laid -300 on a favorite and they're getting beat badly in the first half. The pre-game underdog's moneyline might now be -300. Taking the underdog for -300 will help balance out some of the upset losses, when and if, the underdog ends up pulling off the upset.
Wait Until Halftime to Place Your Live Bets
Many sports bettors try to bet in-game lines as the action is unfolding. This is rarely ideal. Yes, you can lock in a bet in between baskets, but it's quite difficult for you to see a line at one sportsbook, compare that line with those being offered by other sportsbooks, and place your bet, all before the line is adjusted.
To save yourself some frustration, wait until halftime to place your in-game bets. The lines will still adjust a bit when the halftime break begins, but about 10 minutes into the break they'll have settled down. After that, you'll have a 10-15 minute window to look around, compare odds, and place your in-game bets. This 10-15 minute window also serves as a great moment to check out the other books to see if you can middle a game or find an arbitrage opportunity of some sort. Here again, using a line shopping tool can help you see all of the lines at once and execute quickly.
Which teams shoot and make the most 3's?

And which teams should be shooting more…and less of them?

*Power 6 + Ken Pom Top 75 Teams pic.twitter.com/L6LvA6hzbQ

— CBB Analytics (@CBBAnalytics) February 22, 2023
Know Which Teams Start Fast, End Strong
By the time March Madness rolls around, college basketball teams have developed identifiable playstyles that can inform your sports betting decision making such as a propensity to start games fast and/or end games strong. Before March Madness begins, take some time to research which teams play more defensive, grind-it-out type of games, which teams are reliable as favorites, and which teams start fast or take a whole half to heat up.
TeamRankings does a great job of tracking a lot of these types of playstyle trends. Make sure you have your notes accessible when watching the game, they'll prove valuable if you plan to live bet. You can quickly take a look at their different split stats and see which half of the game teams perform better during.
For example, at the time of this writing, Alabama's basketball team is one of the highest scoring teams in the nation, averaging nearly five more points in the second half than the first half. Texas is another team with an identifiable pattern of starting slow (averaging 37.1 points in the first half) and picking up the pace after the halftime break (averaging 41.0 points in the second half). As such, the Longhorns might be a team to bet on if they're down at the half or if their first half has been low-scoring. Make sure you track college basketball rating metrics, trends and follow the data to understand the characteristics of the squads.
Live betting the tournament is a blast regardless. But, there are plenty of preparations you can make to transform March Madness from a fun spectator sport into a profitable live betting experience. Just be sure to watch for favorites to go down early, understand derivatives and team props, hedge your bets, wait until halftime to get in on the action, and know the tendencies of the teams you're betting on.